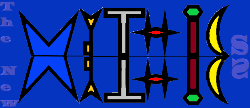 Neo-Mythic
ID#36144
Chapter Three: (Bernard Burko)
"What should I do tonight, coach," Bernard, or Burko as most people called him, said as he stepped off the final step of the bus. "What do they do in America for the night before a new year?"
"You mean New Year's Eve. That's what they call it here," Coach Reagan said as he marked the box next to Bernard Bunko's name on his clipboard. "It's a shame we couldn't arrange for a later flight so you could have stayed in Bursa with your family through the holiday."
"No worries," Benny said with a wide smile, his accent reminiscent of merchants on the streets of Istanbul. He had a deep, resonant voice, easy to listen to and, combined with his polite mannerisms, offset the intimidating nature of his massive, muscular build. "I'll have better stories about America to tell my little cousins when I get home. My father's sister and her family live with my parents ever since, well, you know, the Jinn destroyed most of Bursa. Their house was smashed, so all seven of them fill our house to rafters. It is good I am here for some time. Gives them room to breathe."
"It's good of your family to make room for them." Coach said as he struggled to pull Burko's duffle out storage in the bottom of the bus.
"Evet." Burko hoisted his belonging over his shoulder with ease. "Yes. It is what family does."
"You've got your room number and everything you need? Maybe I could get one of the junior assistants to give you a tour of the campus--"
Burko held up a hand, silencing his coach with a slow shake of his head. "Not needed. I will be fine. I've traveled much and am used to… how do you say… finding my own path."
"Way. Finding your own way." Coach Reagan held out a hand to his newest recruit to the Olympic training program, headquartered in New Amsterdam. "I can't wait to get started on your regimen."
"Finding my way. Thank you." Burko took his coaches hand and shook it firmly. "Much worth it if you can aid me in furthering my putting. I have much competition back in Europe."
"OK then. I'll see you on Monday." Coach Reagan stood and waited as the bus pulled away before walking to his car in the parking area of New Amsterdam Athletic's housing structure. He waved over his shoulder as he hustled toward his remote started car. "Welcome to America. Get some rest."
Burko gave a brief wave back in response before walking under the stone arch in the wall surrounding the dorms. He followed the instructions he had been given to find the right building, and then room, he had been assigned to. Once inside, he tossed his bag of belongings onto the first chair he saw and looked for the bathroom. Catching his reflection in a mirror through a door behind him, he removed his coat, shirt, and the rest of his clothes as he made his way into the room to shower. All that he wore was a leather cord with a small glass bauble, resembling a stopper to a wine decanter, hanging at the end.
As he turned on and tested the water while standing otherwise naked in the room, a chime came from his discarded pants piled in a heap where he had dropped them. He spun around, pausing only for an instant when catching his reflection in the mirror and smiling as he flexed his pecs. "All right, all right. Give me a moment."
A second chime sounded notifying him of another text. He hurried over and dug out his phone from a pocket.
U RDY?
THERE IN 5. B RDY
"Always in a hurry, this one is," Burko said as he put the phone on a nearby countertop. He returned to the bathroom, now full of steam from the cascading hot water.
<><><><><>
Evan pulled up in his rented car, eager to see Burko again. They had met several times over the last few years at various European competitions and fate bringing them together on New Year's Eve in America was an opportunity not to be missed. Once he had put the car in park in the bus lane outside the dormitory compound he too resided in, he checked his appearance in the mirror. Satisfied, he texted Burko again.
HERE. WHERE U
Then again, a few minutes later…
BEEN HERE 5 MINUTES DUDE GET DOWN HERE
Four minutes later…
BURKO WHAT WRONG
Three minutes later…
YOU NOT HERE? STILL ON PLANE
One minute later, after texting with Coach Reagan…
COACH SAID YOU HERE. WHERE U AT
Evan got out of the car and phone in hand headed to Burko's room. He knocked on the door, finding it open and unlocked, he made his way in. Clothes on the floor, bag where it had been tossed, steam coming from the running shower in the bathroom. "Burko. Come on man. New Year's Eve. Places to be. Mess around later."
Walking into the room, Evan found the shower empty except for a large dent in the tile of the wall, a bright red stain trickling down as water poured over it.
9-1-1
<tbc>